Huawei
It is possible to connect with Push.Delivery to the Huawei Mobile Services (HMS) and send push notifications to Huawei devices which do not have access to Google Play Store.
Setup in Huawei AppGallery Connect
Setup a developer account within Huawei AppGallery Connect and create an app. Follow the official Huawei documentation on this.

Login to Huawei AppGallery Connect and enable the Push Kit inside the created project by following the Huawei documentation.

After creating the app inside the project go to "Project settings" and find "App information". For the connection with Push.Delivery you need: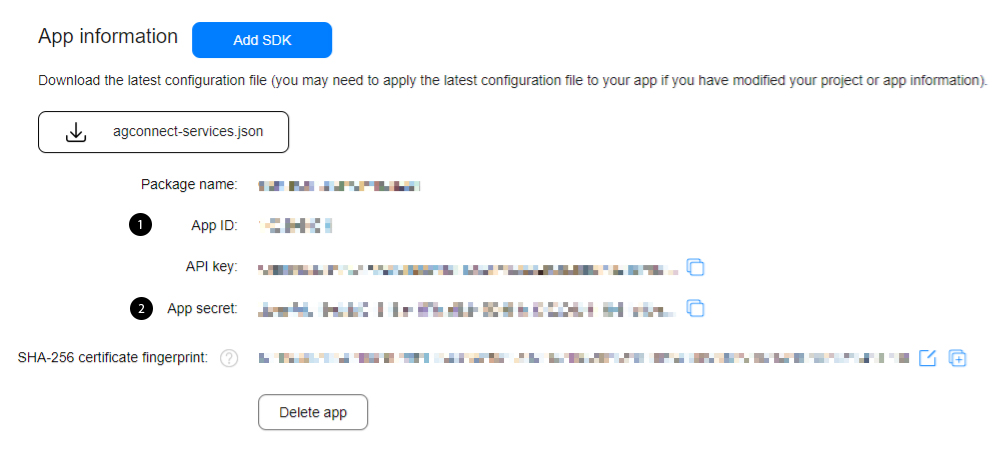 Setup Huawei in Push console
Go into the "Apps" tab and create a new App for "Huawei".

Within the tab for "Huawei Settings" please insert your App ID and App secret from the Huawei AppGallery Connect.

"Save" and Push.Delivery is now connected to your App inside the AppGallery Connect.

After setting up the App, it is time to create Tags if not done yet that users can register for.
The fields in push payload can be custom defined. But system defined fields are as below:
| | | | | | |
| --- | --- | --- | --- | --- | --- |
| Parameter | Type | Description | Default | Required | Comments |
| pushScope | String | 'token' or 'topic' | token | No | - |
| messageType | String | 'data' or 'notification' | data | No | - |
| ttl | integer | time to live (in seconds) | 3600 | No | - |
| priority | String | high or normal | normal | No | - |
| title | String | title | - | Yes | only for messageType notification |
| body | String | body | - | Yes | only for messageType notification |
| url | String | URL to be opened on click | - | Yes | only for messageType notification |